I was lucky enough to invited for lunch onboard the gorgeous Nautica cruise ship and I was really impressed by the style, service and not least the food!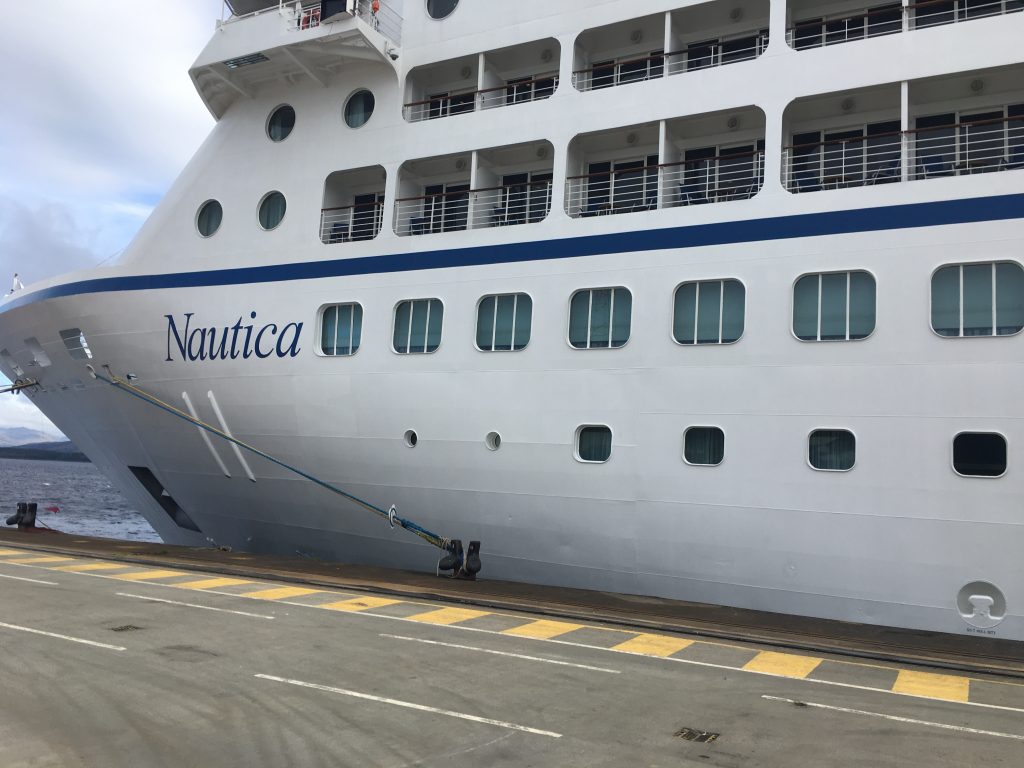 Oceania Cruises are a cruiseline who's trade mark is  SAVOR THE WORLD with THE FINEST CUISINE AT SEA – and I can see why!  This is the cruise line for foodies with gourmet cuisine curated by world-renowned Master Chef Jacques Pepin.  There are a variety of fabulous speciality restaurants offered at no additional charge.  They even serve you on an individual basis in the casual buffet restaurant and carry your plate for you back to your table, so a buffet but not as we know it!
Nautica is a smaller more intimate ship which carries 684 guests and 400 staff. Oceania currently have 4 ships of this size plus 2 larger ships which carry 1,250 guests and 800 staff.  The size of the ships means that Oceania can take you right into the ports, no need for tender boats to ferry you in and out.
Nautica has undergone a multimillion-dollar transformation to create a virtually new ship that is both sleek and elegantly charming. Her decks are resplendent in the finest teak, custom stone and tile work, and her lounges, suites and staterooms boast luxurious, neo-classical furnishings. Nautica offers every luxury, including four unique, open-seating restaurants, a world-class fitness center and spa, eight lounges and bars, a casino and 342 lavish suites and luxurious staterooms, nearly 70% of which feature private verandas.
Oceania are not a formal crusie line, I would describe them more as elegantly casual, but if you feel like getting the glad rags on you can!  Oceania spend around four times what the average cruise line spends on each guests food offering, so if you have a passion for food Oceania is for you: steaks, chops and seafood at Polo Grill, gourmet Italian dining at Toscana, french country cuisine at Jacques and bold contemporary flavours of Asia at Red Ginger.  My lunch on-board was a sample of each and I was blown away by the quality, taste and service – top notch!
Oceania offer over 400 itineraries including Around the World in 180 Days – wow can you imagine!
I would recommend Oceania for those of you that are looking for:
Luxury but not formal luxury
Amazing service
Outstanding food
Smaller more intimate ships
Average age onboard is 55, but this is slightly lower on Oceania's larger more modern themed ships Marina and Riviera.
Great in touch for more detailed information.