You can't beat a short break in the sun and there are so many places to choose from but Palma really does offer so much. I stayed recently in the lovely 5* Iberostar Playa de Palma and would highly recommend it.
Easy to Get To
With a short flight to Palma and then a 10 minute transfer to Playa de Palma I was lying at the pool before I knew where I was! Fantastic! So a great suggestion for a short break.
Stunning Hotel
The hotel has recently undergone a full refurbishment and it is looking amazing. You are looked after from the minute you arrive when you are welcomed by concierge out in the street to help with your bags and lead you to your welcome glass of fizz at the reception desk. The lobby has a lovely stylish décor and I am guessing that they pump out fragrance through the air conditioning as it smelt amazing every time you walked through it!
I had booked a pool view room and was delighted to have a lovely sea view which hit us the minute we entered the room. The room itself was beautifully furnished and very large, it starts with a lounge area, leading to an open plan bathroom (with shower and toilet enclosures) and a large bedroom area opening out onto the balcony with the view.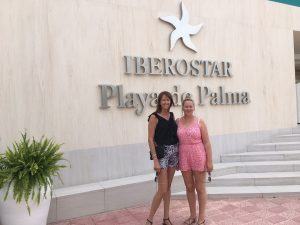 The pool area was immaculate with lovely comfy beds complete with pillows – heaven! And a member of staff was never far away to bring you a drink, lunch or whatever you wanted.
Breakfast in the morning was impressive, really! The selection of food was amazing, all top quality and lots being prepared for you there and then in a light and airy dinning room.
The hotel doesn't look out to the beach at ground level but is literary a dozen steps from the beach. The beach is 4.5 km and is a Blue Flag beach with golden white sand. The shallow, clear water is suitable for children and there is plenty of space. There is a wide selection of bars and restaurants right along the beach to choose from.
The City of Palma
Heading into Palma is easy with the express bus passing by the hotel every 10 mins and takes about 15 mins. I am not normally a bus person but it was really easy and cost just €1.50!
Palma is Mallorca's vibrant capital, stylish and intimate, yet lively all year round with trendy restaurants, cafes, shops and nightlife as well as a thriving art scene. It is easy to wander round the streets stopping at small cafes on the side streets to soak up the culture and a spot of people watching. Here is a link to what to see and do in this great city
We found a lovely side street with lovely bars and restaurants not far from the marina and had dinner in a place called Koa which I would recommend, it was upmarket but relaxed and not too pricey. There are another couple of restaurants operated by the same owner that I would also suggest Ombu for tapas and for something special there's Forn de Sain Joan
I stayed for just 3 nights and it was a fantastic short break that I can't recommend enough, easy to get to, stunning hotel, great beach, and a vibrant city just 10 minutes away. I will definitely be back!