With year round sunshine Tenerife is a great destination for families, couples and groups alike, here is my family experience.
Most recently I stayed in Meliá Jardines del Teide Hotel, located on the Costa Adeje, which is the most exclusive area in southern Tenerife. The hotel is situated on a hill just behind Playa del Duque beach and its position means that residents enjoy fantastic views of the coast line and islands of Flora and Fauna from most areas of the hotel.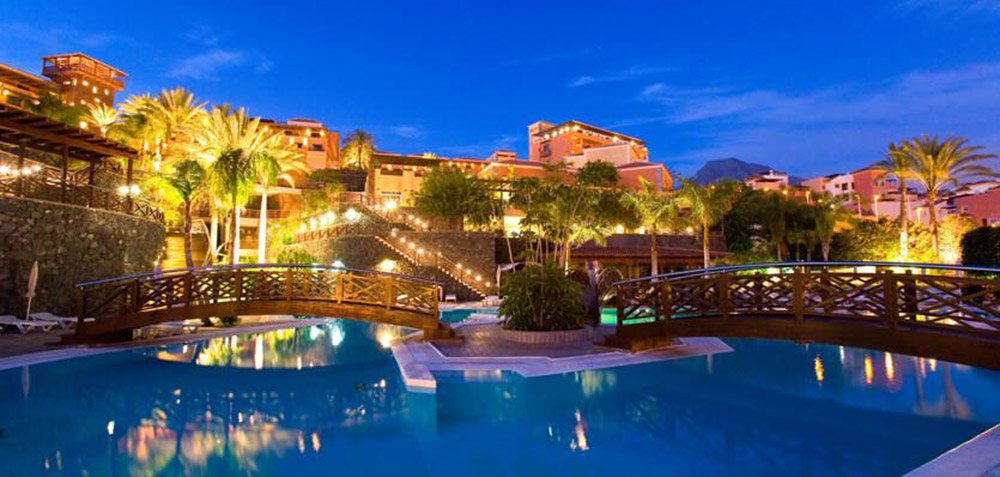 The hotel is great for families with lots going on each day, from foam parties to water carpet running across the pool! But don't worry if you want to escape kids there is an adult only pool get stuck into your book, you can literally hear a pin drop!
The rooms in the hotel have recently been refurbished and the family rooms are very spacious, almost like two rooms and most of the rooms have very large terraces with sunbeds and views!
There are a great selection of bars and restaurants within easy walking distance of the hotel including one of my favourites La Torre del Mirador– a must if you are in the area. With it's stunning beach front location, traditional Spanish décor and great service it is fantastic, the Pil Pil Prawns are to die for! But you must book ahead.
Just a short taxi ride away or a 30 minute walk is the small fishing village of La Caleta which is a lovely traditional village which is the home to various lovely bars and restaurants including Rosso sol Mare and Char – both worth a visit. You can wander along the promenade from Costa Adeje to La Caleta it's a lovely walk.
Other great hotels for a Luxury experience located in this area are:
Bahia del Duque
Sheraton La Caleta
Iberostar Mirador (adults only)
Family Attractions
Siam Park is one of the best water parks I have been to, the rides are great, the park is spotless and there is a good selection of food and drink available. We decided to skip the queues and rent a cabana for the day. Whilst it might seem pricey at £295, but this includes entry for 4 people, a private cabana (includes 4 sun beds, a shower on the terrace, towels, fan, sofa, TV, DVD player and a minibar with refreshments and snacks), fast pass to skip the queues on all the rides and all-inclusive food and drinks for the day – so when you add all of this up it isn't too bad at all. You have to book ahead though as there are only 3 cabanas – I can book this for you.

Next door to the waterpark is Siam Shopping Mall – a great little shopping mall with all the top high street brands, restaurants and cafes.
Loro Parque is a hugely popular animal attraction for families on the island, with dolphin shows, Planet Penguin which is home to an iceberg and over 200 penguins, Orca Ocean where you watch as the killer whales demonstrate their strength and agility and there are many many more animals and exhibits to keep the kids attention for the day.
Submarine Safari lets you get up close to sea life without getting wet in the underwater marine park. The submarine holds 48 people and there are plenty of windows to view the passing Stingrays. The trips leave from Marina San Miguel on the South Coast of Tenerife and there are transfer buses from Costa Adje.